Bushy Tail Best Bitter
22.06.23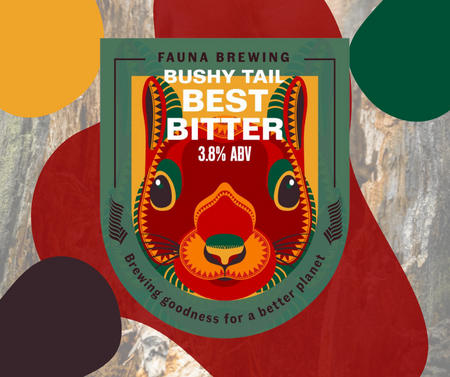 Bushy Tail Best Bitter 3.8% is a traditional best bitter, made with First Gold hops. The flavour profile is floral and fruity, complemented with the complex, caramel flavours of crystal malt. We are super excited to be adding Bushy Tail to our collection and have partnered with The Red Squirrel Survival Trust who aim to establish red colonies across the UK.
- protect reds in areas where numbers have stabilised; 
- fund research that helps to secure the red squirrel's long term future; 
- secure the environment in which red squirrels thrive, by protecting the biodiversity of Britain's native woodlands. 
Andy Hall
They are leading the invaluable grey squirrel fertility research work being undertaken with DEFRA's Animal Plant Health Agency (APHA), in York. Research is focussed on the development and delivery of an effective oral contraceptive for grey squirrels. In parallel, a species-specific hopper is being designed, weighted such that reds and other animals are unable to access it. The development of a benign contraceptive for grey squirrels will lead to a natural drop in the numbers of grey squirrels, allowing red squirrels and British broadleaf trees to flourish. This revolution in wildlife management techniques presents a wonderful opportunity to grow native broadleaf trees and reduce the competition for food, which has led to the decline of the native red squirrel in the British Isles.
Keith Kirk
Like all Fauna Beers, Bushy Tail is proudly Vegan. 🌱
 You can find Bushy Tail on tap at;
Horse & Groom, East Ashling