FAUNA TAPROOM
A stone's throw away from Arundel Castle, our taproom is here for excellent brews & food to match. A dog friendly taproom with a sunny beer garden and cosy interiors.
COME JOIN US FOR GREAT TASTING BEERS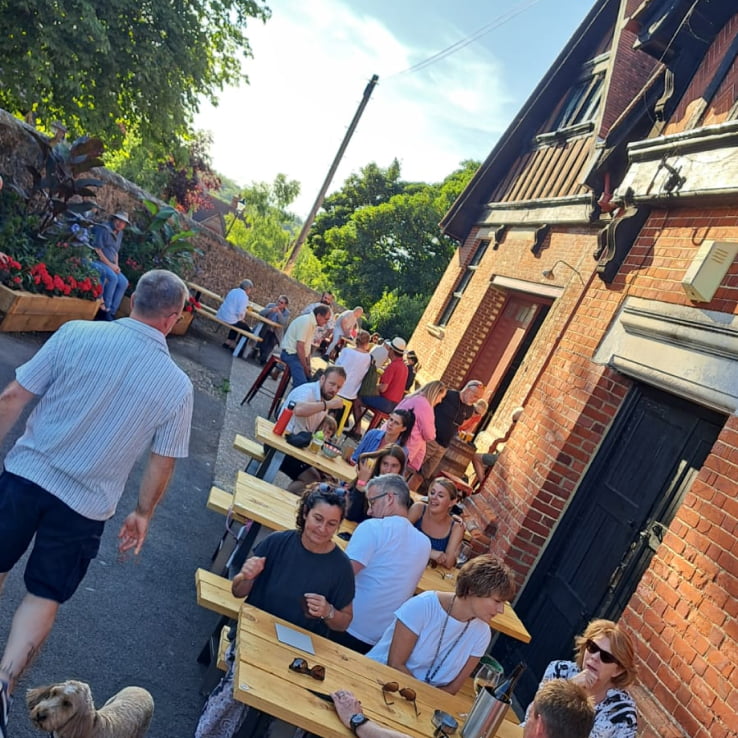 WINTER OPENING TIMES 🌨️🍂 WEDNESDAY 5pm - 10pm | THURSDAY 3pm - 10pm | FRIDAY 3pm - 10.30pm | SATURDAY 11am - 10.30pm | SUNDAY 11am - 6pm
In March 2022, Fauna Brewery started converting the 'Champion's Room' at their new site, The Old Engine Shed. This incredible Victorian building once housed Arundel Castle's own generator, powering the electricity throughout the castle. Since then, it's been used for an assortment of things, but it's mostly remembered by Arundel locals as Dunlop Stables.

When Fauna Brewery took over the building, it was being used as The Norfolk Estate's storage barn. The Fauna team found a Morris Minor (in pretty good condition!), a royal carriage (unused for a few years) and some rusty quad bikes (that Henry & Mat would have loved to steal off the Estate). They also opened the doors to the 'Champion's Room' where Dunlop Stables would have kept their best horses.

Our taproom can seat over 60 guests inside and has a total capacity of 200+ beer lovers and their families. It also serves as one of the best sun spots in Arundel with sun shining in the garden throughout the whole day. The incredible garden creates a sense of escape from the hustle and bustle of Arundel during the summer months.
Our Taproom is also home to the beginnings of our own wildflower meadow, which we created with the support of all of you. When you buy a pint of Meadow Maker Golden Ale or have an Elderflower Gin and tonic, you are helping plant wildflowers around Sussex to promote biodiversity and increase carbon capture.
WINTER AT THE TAPROOM
WHAT'S ON IN DECEMBER
❄️ MAKER'S MARKET w/Resident Artisan…SATURDAY 9th | FREE
❄️ WREATH MAKING WORKSHOP w/REBECCA BAUGH…SUNDAY 10th | £55  
❄️ CHRISTMAS QUIZ…THURSDAY 21st | £2 
❄️ COMEDY ON TAP…FRIDAY 22nd | £15
Christmas opening hours 🎁❄
24th 11am-6pm | 25th&26th CLOSED | 27th, 28th, 29th & 30th open as usual | 31st 11am-8pm 
🎄 Want to host a special event at Fauna? Our dedicated events team will work with you to create a bespoke package 📩 hello@faunabrewing.com 
YOUR CART (
0

)
Check out our merchandise