Fauna and Tap Social Collaboration
27.02.23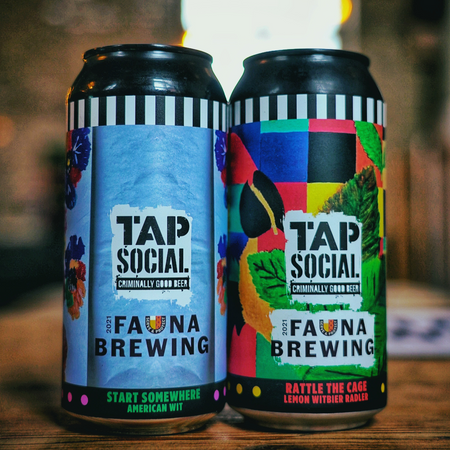 Our collaboration with Tap Social Movement was about more than beer, we strive to make a change by working with brands who do just that. Tap Social is a brewery, hospitality organisation, taproom and now even a bakery that creates employment and training for ex-offenders.
The collaboration came about when Henry
and his wife Becca were on a trip to Oxford, and happened upon Tap Social's Botley based taproom. Thrilled to have found a brewery anchored in a similar ethos as Fauna, we packed Mat off to Oxford for a little brewing holiday.
We opted for an American style witbier and a classic German radler, which is something both brew teams had always wanted to try out! 
With Tap Social's penchant for criminally good puns, we named them Start Somewhere and Rattle the Cage.
They both turned out great, Start Somewhere was awarded SIBA Bronze in the Wheat Beer category!
At only £15 a case, this is a STEAL (see what we did there)
The SIBA Independent Beer Awards are run across SIBA's 8 geographical regions, with the champions from each region moving forwards to the National competition at BeerX. 
The SIBA Independent Beer Awards represent the very best beer from the UK's independent brewers and are judged by fellow brewers and industry experts making these awards the "Brewers' Choice" awards in the UK.
2.8% Lemon Witbier Radler
This collaboration between Tap Social and Fauna Brewing is a classic German radler specially created for whiling away lazy summer days with good company. As light in colour as it is in alcohol, Rattle the Cage builds on its witbier base with pleasant citrus notes imparted by fresh Italian lemon juice.
5.1% American Wit
This collaboration between Tap Social and Fauna Brewing is our take on a modern American wit. We brewed Start Somewhere with a blend of four grains and three hops, then fermented it with Fermo-Weiss yeast that helps spotlight the beer's bready, banana profile and accentuate its soft citrus notes.