Meadow Maker
06.02.23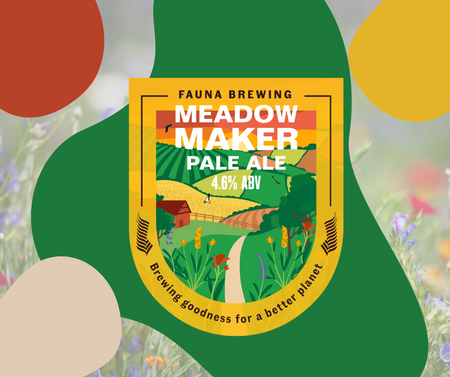 Hey babe, take a walk on the reWILDing side 🌾
Meadow Maker has landed. Our brand new, cask conditioned, English golden ale. The flavour profile is lightly sweet and malty with a hint of fruit and a low to medium hop bitterness with a light aroma.
We are so pleased to be adding Meadow Maker to our line up! As well as creating an easy-drinking pale ale, Meadow Maker led us to think about conservation at home.
The climate crisis and species decline is our greatest threat, and rewilding takes a look at the bigger picture, focussing on recovery and allowing nature to flourish.
Rewilding can help reverse species extinction, tackle climate change and improve our overall health and wellbeing.
All of Fauna Brewing's beers support wildlife conservation and Meadow Maker is no different. Fauna Brewing is helping rewild Sussex by planting 500 wildflower seeds for every cask sold.
Rewilding is a journey with no fixed endpoint. The goal is to help nature help itself so it can thrive into the future. There's not a defined set of actions to take.
🌷🌿🌹
Like all Fauna Beers, Meadow Maker is proudly Vegan.
 You can find Meadow Maker on tap The King's Arms & The Red Lion in Arundel, The Crafty Bishop in Chichester, The George in Eartham 🌱
source: rewildingbritain.org.uk