Meet Our Amazing Charity Partners
19.01.22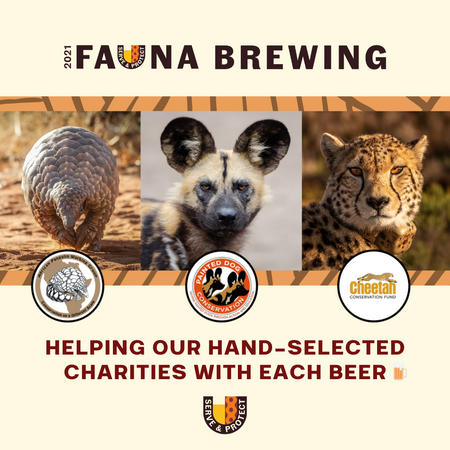 At Fauna Brewing, we're very proud to say that each and every beer you buy contributes towards crucial animal conservation work via our amazing charity partners.
Thanks to the ongoing work of these charities, we are actively working towards protecting some of the most endangered species in the world right now. 
It goes without saying, it's essential to us that your funds go towards the right causes. That's why we carefully hand-selected our three incredible charity partners who we believe are making a real difference to saving some of the most endangered species in the world through their ongoing conservation work.
Not only do we help support our charity partners via much-needed donations, but we also love shouting about their work from the rooftops. So in our first ever blog post we wanted to shine the spotlight on our three amazing charity partners and highlight just some of the incredible and crucial work they do every day.
CHEETAH CONSERVATION FUND
Cheetah Conservation Fund's holistic conservation strategy is the key to its success in saving the cheetah population and its ecosystem. Cheetah Conservation Fund works to develop best practices that benefit the entire ecosystem upon which the cheetah depends. Cheetah Conservation Fund's programmes specifically address the concerns for wildlife populations and the human communities that share the landscape with them.
A key programme and a major part of Cheetah Conservation Fund's holistic conservation strategy is focussed on incorporating livestock guarding dogs into local areas. Cheetah Conservation Fund's Livestock Guarding Dog (LGD) programme is proven to reduce livestock losses to predators by an incredible 90%. According to multiple long-term scientific studies, farmers with a Livestock Guarding Dog are less likely to trap or shoot cheetahs as a result.
As part of this programme, Cheetah Conservation Fund breeds Anatolian shepherd and Kangal dogs to become livestock guarding dogs. For thousands of years these breeds have been used to guard small livestock against wolves and bears in Turkey. Now, LGDs are placed with Namibian farmers as puppies so they bond with the herd or flock and as they grow up, their size and loud bark help to scare predators such as cheetahs away.
Thanks to the Cheetah Conservation Fund, we have covered the cost for the support and care of two livestock guard dogs. These dogs are placed with local farmers and are trained to scare away wild predators, such as Cheetahs, reducing the level of human-animal conflict.
You can help support Cheetah Conservation Fund with each purchase of our Cheetah Lager.
Read more here.
PAINTED DOG CONSERVATION
The Painted Dog Conservation Fund has a very important mission to create an environment where painted dogs can thrive once again. In order to do this, they have put together a conservation model which will make a significant difference to the painted dog population in Zimbabwe.
The Painted Dog Conservation Fund employ more than 60 people from the local villages to run conservation programmes and also education and outreach programmes too. 
Their efforts span everything from an Anti-Poaching Unit team which patrol local areas on a daily basis to provide a direct form of protection for the dogs, along with a Rehabilitation Facility where injured and orphaned dogs are treated before returning them back into the wild.
On top of all this, The Painted Dog Conservation Fund monitor more than 6 packs of painted dogs on a daily basis across Hwange National Park and also 4 packs in Mana Pools and the Mid-Zambezi.
Snares are a huge threat to many species, especially the painted dog, due to the vast amount of distance they cover per day. Through the Painted Dog Conservation Fund, we have removed 45 of these life-threatening snares so far. The fund has also commissioned local artists to create sculptures from the retrieved snare wires, turning something once incredibly negative into something extraordinary and positive for the local community.
On top of all this, we have also funded 100km of anti-poaching patrols in the Zimbabwean wilderness in partnership with the Painted Dog Conservation Fund, to date.
You can help support Painted Dog Conservation Fund with each purchase of our Wild Dog IPA.
Read more here.
AFRICAN PANGOLIN WORKING GROUP
The African Pangolin Working Group (APWG) was established in June 2011 by a diverse group of people who all have one passion in common – understanding and protecting pangolins in Africa.
The APWG's objectives are encompassed by their mission statement: "The African Pangolin Working Group will strive towards the conservation and protection of all four African pangolin species by generating knowledge, developing partnerships and creating public awareness and education initiatives."
The African Pangolin Working Group works very closely with local law enforcement organisations to provide information, training and on the ground collaboration. Testimony is also a vitally important aspect of our work, involving the court case hearings of the accused traffickers that follow their arrests. 
Sadly, whilst large predators, starvation, fires and illness/disease do pose a threat to wild pangolins, the vast majority of threats facing pangolins today are of a human origin.
All pangolins that are retrieved out of the illegal wildlife trade are considered compromised, that's why the African Pangolin Working Group has been appointed by the South African Government to oversee the rehabilitation of these pangolins in the country.  Each retrieved pangolin is assessed, treated and rehabilitated on a case by case basis, conducted by APWG's highly experienced team.
The African Pangolin Working Group, in partnership with the Paramount Group, has also now developed a K9 pangolin detection programme with several dogs currently in training to detect the scent of pangolins and combat illegal wildlife trade.
So far we have helped to pay for a satellite tracker through the African Pangolin Working Group, which allows the re-introduced pangolin to be properly monitored so that their  rehabilitation back into the wild is as successful as possible.
You can help support African Pangolin Working Group with each purchase of our Pango Table Beer.
Read more here.
By choosing Fauna Brewing, you're helping to fund vital conservation work for each of our amazing charity partners with every beer you drink. It's that easy.
We'll be keeping you updated with all the latest news and developments about Fauna Brewing, our charity partners and other vital conversation & climate change work happening around the world via our blog. 
Stay up-to-date with Fauna Brewing by signing up to our Newsletter and grab 10% off your first order too!