The Brewery Build Is Complete!
04.09.23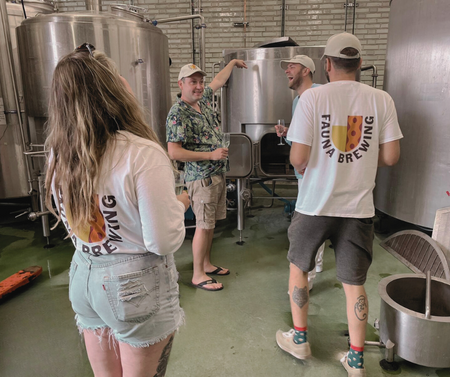 After 3 years of dreaming and scheming, the brewery build is finally complete. 
In the photo below of Phil (Fauna Founder), Mat (Head Brewer) and Henry (Head of Sales & Operations), Mat is holding a framed photo of the night before our beloved Taproom opened. 
It was just over a year ago, we opened the Taproom, yet it feels like another lifetime. Then in September 2022 we announced planning permission had been granted.
So how did we get here?
We're blessed with an amazing amount of space, the Old Engine Shed used to house the generator that powered the whole of Arundel Castle! As is often the case when there's a big empty room, we filled it with all kinds of rubbish. So we began by clearing everything out, bit by bit, and had our beautiful green floor laid. Skipping a few steps ahead, we moved our tanks in, installed the chillers and even moved the canning line out of storage!
Then the day came, we got the call, it was time to MASH IN. We dressed to match our malt bags, and Mat convinced us all he knew how to drive a cherry picker, and we were off. It was an amazing morning and a real milestone that we'll always be grateful for!
Most of all we're super grateful to the support of all of you! 🐾
While we wave goodbye to sitting in traffic, hauling Mat around to brew in other wonderful spaces (which will be missed!) we look forward to serving the freshest, most delicious wildlife inspired brews right next door.
It's been a few weeks, and few brews since our launch party, but we had the best day!
Thanks to everyone who came to wish us well, and the friends and family that travelled from afar. Shout out to the Fauna team who made the day memorable and to PiP Public Image Promotions, The Quills, Dave Packham & The LaLas's and DJ ROX who kept us dancing all day long.