Fauna Brewing: The Ethical & Vegan Friendly Beer Brand
21.02.22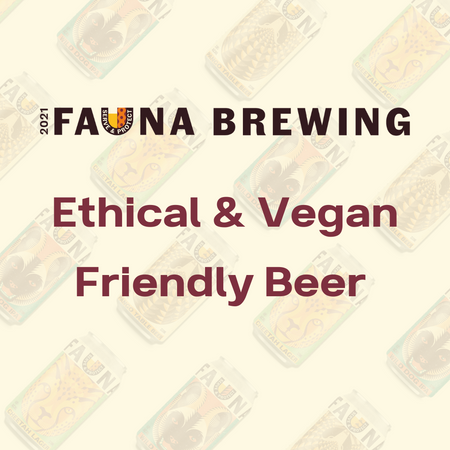 The largest problems facing the world right now are climate change and species decline. It's sad to say that we are currently facing the world's 6th mass extinction with over 100 species going extinct every single day, this is a biodiversity crisis and action needs to be taken now. It's for this very reason we founded Fauna Brewing, at our core we are a purpose driven ethical beer brand that believes we should all strive to make a change, no matter how big or small it may be.
Since we first launched Fauna Brewing back in 2021, supporting species decline whilst minimising our own environmental impact has been at the forefront of
our mission
. From the very beginning, we set out to build an ethical beer brand that gives back to some of the most important conservation charities working tirelessly to fight species decline.

So whilst we're absolutely crazy about beer, conservation and environmentalism are at the core of who we are as a business. It's essential that we come together and combat the greatest threat to our generation – the climate crisis and species decline.
So what is an Ethical Beer Brand?
Using the term
'
ethical
'
in regards to a brand or product generally implies that the business is influenced by certain upstanding morals and principles, so the same logic
also applies to us beer brands too!
That's why here at Fauna Brewing, we're very proud to consider ourselves firmly in the category of ethical beer brands! By shopping with Fauna Brewing, you're helping to fund vital conservation work for each of our
amazing charity partners
with every single beer you drink. It's really that easy!
You can read all about our charity partners and the brilliant work they do in our previous blog post
here
.
Aren't all Beers Vegan Friendly?
Whilst the main ingredients for most beers are typically barley, water, hops and yeast (which are all vegan friendly ingredients), there are still lots of beers that aren't vegan friendly.

The reason for some beers not being vegan friendly is when it comes to clarifying the beer before bottling, kegging or canning, with some breweries using animal-derived fining products like gelatine or isinglass (which is a type of fish-based gelatine) to refine their brews. This is not an unusual practice either, with many large breweries using these types of fining agents to clear their beer - this is often the case with wines too.
But fear not, You won't find any of these fining products in our beers, we're extremely proud to call all our
Fauna Beers
vegan friendly!
You can stay up-to-date with
Fauna Brewing
by signing up to our Newsletter and get yourself
10% off
your first order too!